Jio Important Announcement : IUC Plans
Hello Everyone this time I am gonna tell your about the changes in Plans of Jio imposed by TRAI.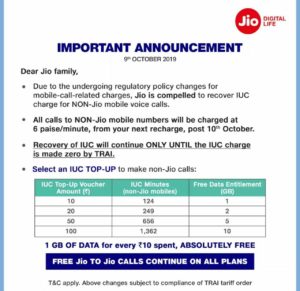 Read this post completely to understand what is going on between TRAI and other Telecom Operators
First of all the Jio was providing us free calling to Jio and to all other Telecom Operators since  September 2016.
But then in 2017, TRAI set a charge for IUC ( Interconnect Usage Charges) ie. whenever you make a outgoing call from one operator to another. The The Operator you used to make outgoing call has to pay 0.06₹ per minute to the Operator on which the call is reached.
In simple words if you make outgoing call from Jio to Airtel then Jio have to pay 0.06₹ per minute to the Airtel.
Most of the users use Jio to make calls to other Operators and Jio was paying for that to other Operators that is about ₹1,350 Crores
Now they were trying to recover some of its amount by levying the 0.06₹ to the users.
Jio now have introduced new Plans including IUC packs as follows:
1. Rs.10 plan will offer 124 minutes of IUC minutes to non-Jio numbers and 1GB data.
2. Rs.20 plan will offer 249 minutes of IUC minutes to non-Jio numbers and 2GB data.
3. Rs.50 plan will offer 656 minutes of IUC minutes to non-Jio numbers and 5GB data.
4.  Rs.100 plan will offer 1,362 minutes of IUC minutes to non-Jio numbers and 10GB data
You cannot use your Main Balance to Recharge any IUC Plans but you can use your Main Balance to recharge any non-IUC plan. I recommend that if you have balance in your Main Balance, then you should only recharge with non-IUC plan.
One more update is that now there is no Full Talktime Plan in Jio.
As before 100₹ plan gave us benefit of 100₹ Full Talktime, now it will only give you talktime of 81.75₹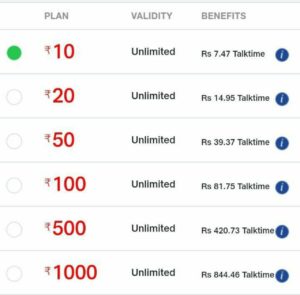 Another thing that was in headlines few days ago that Jio has reduced the Call Ring to 20 seconds. Just to reduce the IUC charges they pay to other Telecom Operators. So, in competition of Jio other Telecom Operators such as Airtel and Vodafone also reduced their Call Rings to 25 Seconds from 35-40 Seconds.
For example:
When you call from your Jio number to your friend having Airtel number then the Call Rings only for 25 Seconds before it was 40 seconds means then your friend get leases time to pick the call and after seeing your missed call, your friend will call you from his Airtel number to your Jio number.
Means this time Jio will earn profit of 0.06₹ per minute from the call.
For every outgoing call to different Operator the Operator from which call is dialled has to pay IUC to the Operator on which call is terminated.
TRAI will abolish the IUC charges on January 2020 , so after that the plans will get to the normal prices without any IUC Plans
Hope you understood the whole case