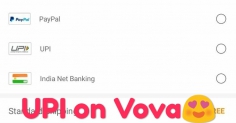 Vova app update: Pay using UPI on Vova app
Hello guys this time the update is gonna super awesome.
Your most favourite app to get freebies such as wireless Earphones, mi band, and much more things.
Vova now supports payments via UPI and netbanking
No need of Credit/Debit international cards or PayPal account.
Here's how to do it
Get UPI and netbanking option in Vova App.
1. Download vova app only from here

2. Click on freebies you can see on the center.
3. You can see you have 20 gems , you can use that amount instantly.
4. Add to cart any item.
5. Select UPI to pay 1-2₹ charges.
6. Enjoy the product will be delivered within 15-30 days.