How to get e-Passes to travel in Delhi Amid Lockdown
After the announcement of nation wide lockdown by the Prime Minister of India on March 24, movements in Delhi are completely stopped in order to curb the spread of COVID-19. pandemic. But now for essential movement, Delhi Government is now providing e-Pass that will bring some relaxations for essential commuters.
The e-Pass will be provided to those who are involved in providing essential commodity services like groceries, medicines, manufacturing, transport, and for hospital staff. To make things simpler, the government has added a feature to apply for these passes via WhatsApp
How to apply for e-Passes online
The government has made a dedicated website   to issue the e-Passes. A consumer can also apply for e-passes on WhatsApp numbers.
Here's a Link to Website CLICK HERE 
The online application only asks for the need for e-Pass with listed options- food, ration, compensation, pension, and travel during the curfew. Once the requirement is submitted, the person needs to fill his name, address, and mobile number. The concerned department will make a call to proceed with the application.
How to Get e-Pass through WhatsApp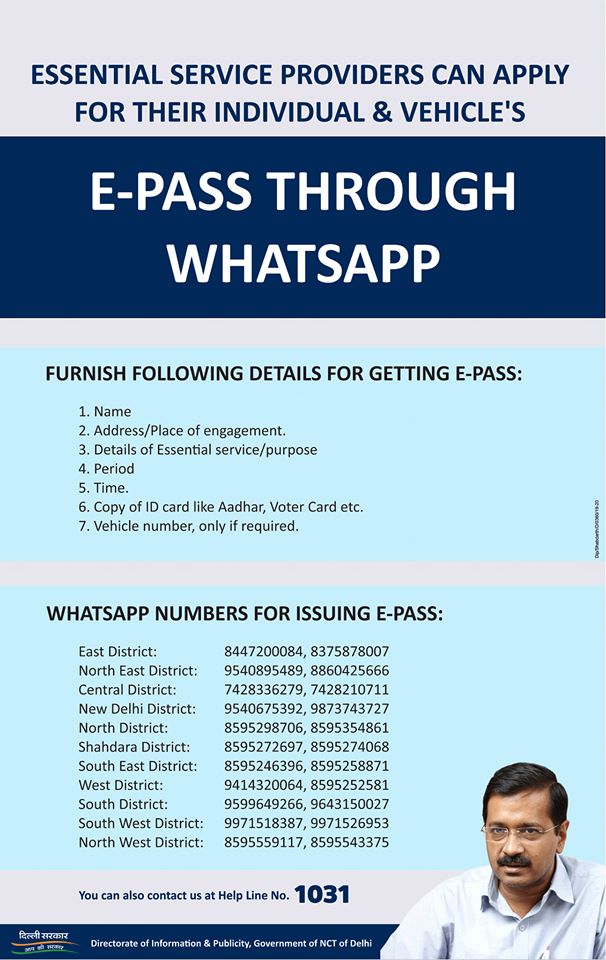 The more convenient way is to apply through the WhatsApp number provided. The Delhi government has released two mobile numbers for each zone on which an applicant can put in his request. The applicants will be asked to present their details like name, address, purpose, timing, and copy of government ID to support the identity. There is a helpline number 1031 to assist with the e-Passes.
The applicant is not required to visit any office to get his copy of the e-Pass. It will be delivered through the applicant's WhatsApp numbers. A unique ID will be created and assigned to all the e-Pass to check the misuse.
You can also join our telegram channel to earn some money and get some awesome deals during and after the lockdown