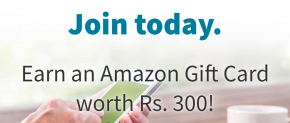 Free Rs.300 Amazon Gift Card : MobileXpression Offer
Hello Everyone this is to tell you about the latest offer in which you can earn good amount of money without doing anything.
A new app called MobileXpression is offering ₹300 for Free. Follow all the steps below
Steps to Get Free ₹300 Amazon Gift Card
1. Go to the site below
https://www.mobilexpression.com/Landing2.aspx
2. Enter your name , e-mail, state and all the necessary details on the site
3. Enter your Mobile number which is working.
4. Now click submit and successfully register on site
5. Now download the app from the link given after submission
6. Then enter the same number in the app that you have entered in site for registration
7. Give all the permissions requested by app
8. Now just keep the app for 45 days in your phone and you will receive the Gift Card worth ₹300 after 45 days
9. Very simple process just keep the app and get free ₹300
10. Enjoy