Convert Paytm Loyalty Bonus to Paytm Cash
Hello Everyone this is to tell you about that how you can convert your Paytm Loyalty Bonus balance to Paytm cash
Previously everyone got bonus PayTM loyalty balance for free.
You also earned Paytm Loyalty bonus by playing some games or referring.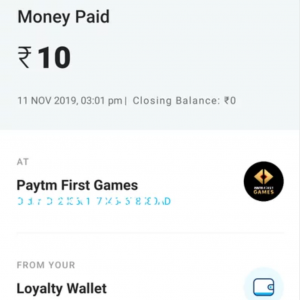 Steps to Convert Paytm Loyalty Bonus to Paytm Cash
1. Go to the Link Below
https://gamepind.com/play-money-express-n-win-daily/home
2. Join the Game and pay the 10₹ to Join
3. Your 10₹ balance will be debited from Paytm Loyalty Bonus.
4. Answer the 3 very easy questions.
5. After winning you will get the winning 10₹ into you Paytm wallet
6. Convert your bonus to Paytm wallet in 10₹ shots if you have more balance.
7. Done