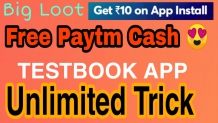 Testbook Unlimited OTP Bypass Trick
Hello guys this is to tell you about the latest offer from the Testbook app that is giving from 5₹ per Refer to 10₹ per Refer.
I want to share an unlimited trick with you to Earn Unlimited Money by getting Unlimited Referrals.
No number and no email id verification is required in this process
Proof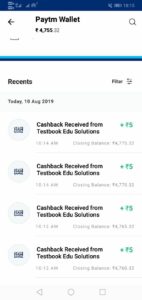 Steps to Get Unlimited Referral in Textbook App and Earn Unlimited
1. Download – DOWNLOAD HERE
2. Enter
Your Number and Refer Code LIBVTO
3. For Entering Code Click on 3 Lines > Referral > Enter Code – LIBVTO
4. Now Copy Your Refer Code and Install app again
5. When Entering Number, Enter Any Number & Click Outside the OTP Box , OTP Screen Removed !!
6. Now go to Referral Section & Enter Your Main Referral Code
7. Now Repeat From Step 5 and do Unlimited Referrals
8. Enjoy Unlimited Money
9. Not Getting the procedure
Watch The Video Tutorial here