Pay Re.1 Get Rs.6 Cashback : Free PayTM Offer
Hello guys this is to tell you about the offer from Paytm app that comes every month for every Paytm user.
Now a days Paytm offers are reduces very much so this offer is one of the best offer of Paytm which gives us free Paytm cash every month
If you have one Paytm account then you just have to pay Re.1 and you will get Rs.6 Cashback in your Paytm wallet this means Flat Rs.5 Benefit on your every Paytm account.
Steps To Get Flat Rs.5 Free PayTM Cash
1. Open the Paytm app.
2. Open the Link Below
3. Buy the deal which is showing Get Rs.6 Cashback
4. Apply the Promocode
MAGIC
5. Pay the Re.1 amount
6. You will get Rs.6 Cashback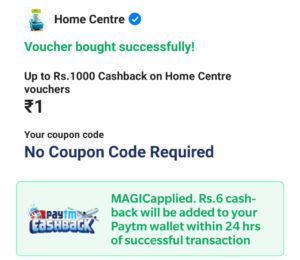 If You are getting Error in buying the deal or applying the Promocode
1. Login your Paytm account in which error is showing in Chrome's incognito window
2. Or You can also login your account in parallel space app then buy the deal
You will not face any error in applying Promocode this time