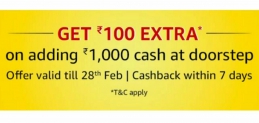 Get 100₹ extra on Amazon pay: 1100₹ on 1000₹ doorstep cashload
Hi Guys this is to tell you about the offer from Amazon pay .
In which you will get 1100₹ on loading 1000₹ in your Amazon pay wallet
You will get flat 100₹ extra
Here's how to do it
How to Get 100₹ extra in Amazon pay doorstep cashload
1. Click this link below to check whether your account is eligible or not

2. Order anything from amazon
3. When the delivery man comes tell him to add 1000₹ in your Amazon pay
4. He will take the cash and add the amount immediately.

5. You will get the 100₹ extra, within 7 days of adding money.
6. You can use this money in order or bill payment/recharges.
7. Enjoy