Earn flat 233₹ instantly: amazon pay/Paytm/bank anything
Hello guys this is a to tell you about the amazing the most awesome offer of February 2019
This offer is Exclusively presented to you by Webfree4u community aka heaven for all.
In this offer you will earn definitely 233₹ flat in your bank or Paytm or Amazon or phonePe or Zingoy anything.
Here are the steps to earn flat 233₹ instantly.
Steps to earn ₹233 instantly (strictly follow these steps)
1. Make your PayPal account (add PAN and Bank details)
2. You must have to have a physical debit card that is usable on PayPal
Watch this video if you want VISA Debit Card For free(physical)
3.Go to Abhibus website & Book A Ticket Around ₹700 [ Check Refund Policy Before Booking ]
2. Pay The Amount Via Paypal & Get ₹350 cashback instantly in you PayPal.
3. Use the PayPal cashback on zingoy buying any gift card you want (recommended amazon 250+100₹ gift card)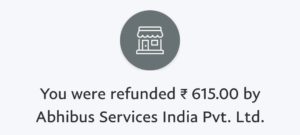 4. Remove Your Linked Card From Paypal Account
5. Cancel the ticket and Get Refund of ticket in same card. Within 7-14 days.
7. Loot this immediately, as its T&C can be changed.
8. You can watch the live video demonstration here