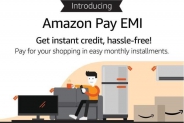 Amazon Pay EMI: how to get Amazon pay emi in India
Hello guys this is to inform you about one of the most interesting trick and most helpful one for those who shop from Amazon frequently.
As you know the Amazon has bring many offers specially for India on Amazon pay.
Amazon pay emi is still very new and limited to small number of customers.
Here's how you can check if you are eligible or not.
Check your eligibility for Amazon Pay EMI.
1. First login or sign-up for Amazon pay.
2. Go to Amazon.in and create your Amazon pay account.
3. Complete your KYC to increase your chances to be eligible.
4. Click this link to check now

5. If you are eligible you will get your limits .
6. If not , don't worry you will be eligible soon.
7. Enjoy