Paytm merchant offer: earn 10₹ on payment from unique customers
This is to tell you about the latest offer from the paytm, this is for my merchant friends who owns a shop or a Paytm merchant account. You can earn flat ₹10 from each unique customers who pays you on your Paytm merchant QR code.

How to Earn flat ₹10 cashback from customer payments on Paytm merchant account.
1. You must have to have a Paytm merchant account.
2. You can make one by downloading Paytm business app.
3. Make your account and get the QR code , if you have account download your qr code.(as shown in figure below)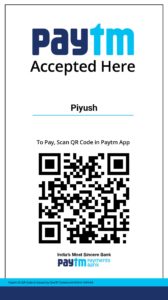 4. Scan the QR code from your other Paytm customer accounts.
5. Pay ₹20 or more from UPI and then if you are one of the selected merchant you will earn flat cashback of ₹10
6. Pay only and only from UPI as it is the only eligibile mode of transaction to get cashback.