BookMyShow – PayPal Offer
Hello Guyz I Am With New Post which Gives You Chance To Almost 50% on Movie Tickets .
About the Offer
BookMyShow Is Online Platform Which Is Used To Buy Movie  As Well As Event Tickets . In This Platform Paypal Offered 50% Upto 150  Cashback for Buying Ticket.
Pay with PayPal and get 50% instant cashback up to Rs. 150 on your eligible purchases
Offer can be availed only once during offer period
Offer is valid for first transactions through PayPal India account and can be availed from 23rd January 2019 to 31st January 2019
How To Available This Offer 
1. Open The Book My Show
2. Go to the Offer Section
3. Click on Paypal Cashback Offer As I Shown Image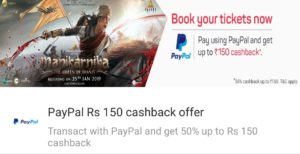 I
4. Simply Select Your Fav Movie And Use This Offer
Note: Some Users Says That It is for New Users But mostly Said that it Is for Everyone
Terms And Condition
PayPal will send a cashback award email within 24 hours
Cashback is received under the PayPal account
The cashback will be in the form of a voucher in your PayPal account
The cashback will be valid for 60 days from the date of receipt of email. Check email for actual expiry date of cashback The customer will have to pay internet handling fee as levied on each ticket
Check your cashback amount on www.paypal.com/myaccount/wallet . In case you have a business account with PayPal, you'll need to download the PayPal app, login and check 'Offers' section in the bottom part of the app homepage to find your cashback. Cashback is received under the PayPal account. Check awarded cashback as below.
o    Step 1: Login to your PayPal account and select the 'Payment Methods' tab. The voucher will appear under 'Saved Offers'.
o    Step 2: Your PayPal voucher will be redeemed automatically when you shop with an Indian seller that accepts PayPal.
 The offer is available on the BookMyShow website and mobile application
This offer cannot be combined with any other offer/winpin/discount on BookMyShow
This offer is valid only for users coming directly to the BookMyShow website and not via any other partner site
Offer is currently valid only on movies
In case of cancellations/ refunds in redemption cases, 100% cashback will be refunded by PayPal if the offer period is still valid. For partial cancellations, refund will be processed as per PayPal policies
Under no circumstances will you be entitled to withdraw the eligible cashback amount into your bank account or otherwise ask for a cash withdrawal. The cashback amount will be applied as a discount for your eligible purchases. The amount cannot be credited into any pre-paid instrument issued under applicable RBI laws
The offer can be redeemed during a PayPal transaction where there is an integration between the merchant's checkout flow and PayPal back-end platform which holds all the logic to redeem PayPal offers
Tickets once bought online, shall be considered sold and cannot be cancelled, refunded or exchanged
For all issues/queries/complaints related to cashback call PayPal customer care 1800 419 9833. For any other queries on BookMyShow, please contact 022-6144-5050
Once the booking is committed, the confirmation mail/SMS received from BookMyShow needs to be exchanged with the ticket available at the venue
 Cardholders shall not be entitled to compensation/benefits in any form whatsoever in lieu of the offer being availed
In addition to the above, this offer on the website is also subject to BookMyShow's general Terms of Use Kindly refer to BookMyShow's Terms & Conditions on the homepage
In case of any disputes, Bigtree's decision will be final