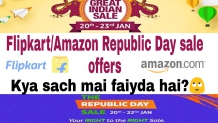 Amazon/ Flipkart republic day sale best offers.
Hello guys welcome again this time I am gonna share with you the best offers of the The Republic Day sale of Amazon and Flipkart.
This time they focused more on smartphones and laptops.
Although both the e-commerce platforms done some misleading things
On expensive products and mobile accessories they just doubled the MRP and gave 50% off.
This thing meant or have nothing to us. It is just a marketing strategy , they use to make us buy from them.
But some of the products such as trending smartphones are given slight discount in price
Heres the list of best products
Lenovo Ideapad 330 i5 8th Gen(Flipkart)
https://zngy.in/eFAf
Lenovo Ideapad 330 Ryzen 5(Flipkart)
https://zngy.in/eFAj
Redmi Note 6 Pro
https://zngy.in/eFAy
Honor 9N
https://zngy.in/eFAM
Redmi Note 5 Pro
https://zngy.in/eFAY
Poco F1
https://zngy.in/eFBt
RealMe 2 Pro
https://zngy.in/eFBV